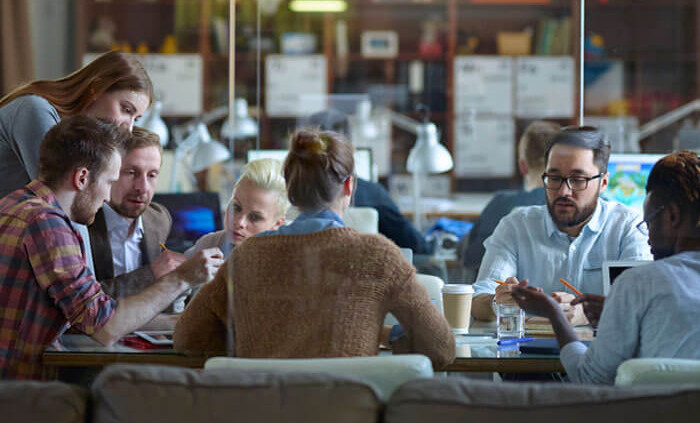 With InTegriLogic as your outsourced IT partner, you will experience:
Less Downtime
Fewer Day-to-Day Issues
More Opportunities
Flat-Rate IT Budget
Infrastructure Protection
Business Continuity
A Good Night's Sleep
About InTegriLogic

Your Partner for
Managed Services & IT Support
InTegriLogic has been serving the Tucson area and beyond since 1999, providing IT Support such as technical helpdesk support, computer support and consulting to small and medium-sized businesses. Our experience has allowed us to build and develop the infrastructure needed to keep our prices affordable and our clients up and running.
Our team of experts can become your outsourced IT department; responding to issues quickly, often before you even know about them. Covering everything from your servers and network infrastructure, to your computers, workstations and mobile devices, we provide end-to-end solutions for all of your technology needs.
Not sure where to begin, or even if InTegriLogic is a good fit for your organization? Contact us to learn more about how we can help move your business forward.
Very Appreciative
We use InTegriLogic for 100% of our technical needs. We have approx. 140 computers managed currently with their company across 3 locations. This includes desktop, ipads, laptops, servers, cybersecurity and more. We have multiple pieces of medical equipment that must connect to our Electronic Medical Records through firewalls to be HIPPA compliant and they always seem to have the answer. In house we have a couple go to people to handle the simple IT requests but they are always guided by InTegriLogic on conference. When we need something more complex, they send a technician to our location. When it comes to response time, this is why we have kept with InTegriLogic all these years. When sending a help ticket, each staff member has a response the same day to communicate the timeline of completion and the ranking of the request. Anytime there is an emergent issue I feel as if there is an "all hands on deck" approach. I have a few great staff members who are wonderful in patient care, however, lack the experience of being weary online phishing and clicking through emails which create alerts that are alarming and InTegriLogic comes in and rescues....
Highly Recommend
Their understanding that I need to be up and running immediately. I work with Sean, Ronny and Denisse and all three know everything about our tech components including our medical diagnostic machines and they truly can fix it all. If they don't have the answer, they call the company that does and gets it taken care of quickly. Ronny and Sean have made it a priority to lean our optical software and now work with other accounts with the same software and have a working relationship with our software company. I've called on the weekends with issues and they always have someone there to help. I've been incredibly impressed with the techs I work with and the relationship and trust we have built over the years. I do take care of as much as possible here, such as setting up hardware, i.e. plugging in, etc., being their hands on when necessary, but nothing that I would consider truly difficult. Their company being remote has worked out find, since they jump on and fix everything. The times I needed a new location set up, Ronny and Denisse came in and got it done. Honestly,...
They are professional, knowledgeable, patient, and kind
We have used InTegriLogic to manage our IT and phone system for many years. They do a great job prioritizing work orders in a timely manner and exceptional follow up making sure everything is working properly
It is such a pleasure working with their support team. They are professional, knowledgeable, patient, and kind-- they are the best!
...
Extremely Happy
I am extremely happy with Integrilogic. I had my concerns initially because they are not located in the same city but honestly that has never been an issue. We do have a service contract with them, and they are worth every penny. Their technicians are all very knowledgeable and we usually deal with the same few technicians, so they know most of my staff by name. I am always able to get immediate help when necessary both during and after regular office hours. They take care of all of our routine maintenance, updates and back-ups etc. and we call them for problems when needed. I highly recommend them.
...
Great Service!
I had no idea how complex the project would be but InTegriLogic made it easy and understandable for me.
...
Highly recommend Bruce and his technicians
As the former president and vice president of two different eye care corporations with multi-locations, our information technology needs required the expertise beyond our internal capabilities. I was fortunate to have been referred to Bruce Groen at Integrilogic Corporation in 2000 to support our IT needs as well as phone systems. Bruce and his expert technicians at Integrilogic has been my core IT vendor ever since providing superior network support and maintenance as well as with the purchase of IT hardware and digital phone systems. I highly recommend Bruce and his technicians from Integrilogic Corporation for your IT needs as their expertise is critical to your successful network deployment.
...
I appreciate the responsiveness, knowledge and kindness
Integrilogic has been handling my IT for many years. They always present me with detailed quotes and options before we begin any project. They helped me save money on phone systems and software. I appreciate the responsiveness, knowledge and kindness of the staff
...
Outstanding service
Thanks so much for the outstanding service, our system has been running pretty flawlessly this tax season. Everything is running great once again. You and your staff are the best. Please thank them for me.
...
Great Feeling
The system is humming along like a song bird!!! What a great feeling. Now no excuse not to get my work done!! Thank you again.
...
InTegriLogic Is Here To Help Support Your Business!
Our Goal Is To Prevent IT Issues From Happening, Keeping Your Business Profitable and Successful.
Do You Need Help Now?

InTegriLogic Support Options
You're human, and your support should be too. Speak to a support team member on the phone now!
Phone: (520) 545-0691
Get Started With A Free Consultation
InTegriLogic Blog Posts
Say Up To Date With The Latest News